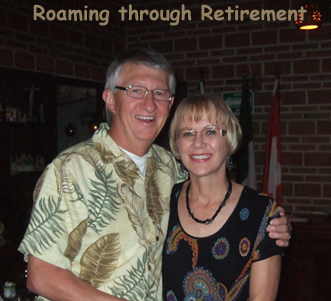 Welcome to LarryandGlorine.com! Since our retirement in June of 2007, we have been both healthy and very happy and are only beginning to grasp how wonderful life has been for us as we keep roaming through retirement. This picture was taken as we celebrated this past New Year's Eve. This website is dedicated to capturing our special moments and posting them to our website. Our goals remains simple:
to maintain a personal log of our experiences,
to share them with family and friends and
to create a simple way for you to keep in touch with us by clicking on our link Larry and Glorine and keeping us updated with your experiences. We love hearing from you.
As you can see, we have given our website a bit of a facelift and made it easier to navigate. This website is organized for 2010 and will be updated monthly. Our past web pages have been archived and can be accessed by clicking on the ARCHIVE button. To return to this page, click on the HOME button.